Stewart Rapalje and Robert L. Lawrence. A Dictionary of American and English Law: with Definitions of the Technical Terms of the Canon and Civil Laws.
Jersey City, NJ: Frederick D. Linn & Co., 1883.
Stewart Rapalje (1843—1896) was born in New York City. He briefly attended Yale University,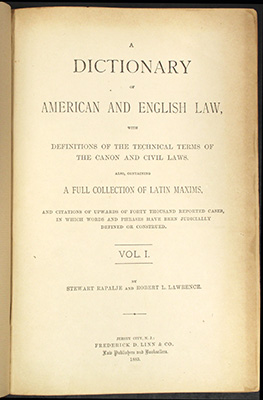 but left after a short time with the intention of studying law. After a brief stint in the business world, Rapalje entered Columbia College Law School, and was admitted to the bar of New York in 1869. After four years of practice he collaborated with Benjamin Vaughn Abbott in the preparation of the United States Digest (New Series.) This marked the beginning of a distinguished but not profitable career in legal publishing, and Rapalje is credited with the authorship of more than ten treatises and similar works, and many articles. From 1880—1890 he was also the editor or co-editor of Criminal Law Magazine. He died of bronchitis and overwork in 1896.
Robert Linn Lawrence (1851—1921) was born into a prominent legal family, in Sparta, New Jersey. He graduated from Princeton College in 1873, read law with Thomas Anderson, of Newton, and was admitted to the New Jersey Bar in 1876. He soon had a prosperous legal practice and wrote a number of articles. Editing the Criminal Law Magazine first brought Rapalje and Lawrence together – Lawrence worked as co-editor for the magazine from its origin to 1883.
When Rapalje and Lawrence produced this dictionary, it immediately faced competition with three other two-volume US law dictionaries (Bouvier, Burrill, and Abbott (not shown)). Their hope was that it would be sufficiently different to warrant great success, which it did not. Even favorable reviews noted that the work contained far too much English material for a dictionary on American jurisprudence. Nonetheless, a second edition was issued in 1888.