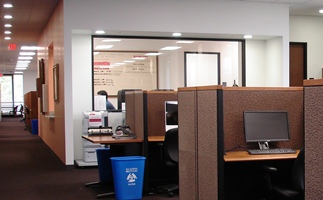 The 3rd floor of Tarlton Law Library houses:
the Tarlton Tech Desk (JON 3.220);
a scanning station with document feeder;
a book scanner;
a lab with computer carrels;
a charging station for mobile devices; and
the Library's computer classroom (JON 3.222/3.223).

Please note, food and drink are not permitted in any of these areas.
All the computers on this floor are reserved for law student use only.
In addition to the scanning station and book scanner on the 3rd floor, there is another book scanner on the Library's 2nd floor. Only the scanning station on the 3rd floor can do optical character recognition (OCR). (There are also scanners available in UT Libraries' PCL with Acrobat Pro that can do OCR.)
A wall-mounted charging station for mobile devices is located on the east wall next to the laser printers. The station can charge up to 8 devices at a time, with 1 mini-USB, 4 Apple, 3 micro-USB cables.