Court of Common Pleas Decision
Daniel Harding and John Tulvutt, against Benjamin Doyle. Decision.London: 12 May 1651. English. Brown ink on parchment. 490 X 696 mm.
One seal, missing. Decorated borders. Roll 33.
Daniel Harding and John Tulvitt brought suit against Benjamin Doyle in the Court of Common Pleas for illegally occupying and farming lands in Milton and Middleton, Kent.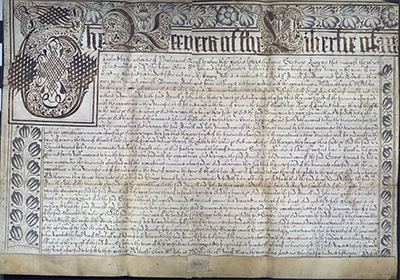 The property in question was not large – four messuages (a messuage is a house, its outbuildings, and adjacent land) and four gardens. The land was occupied by two of Doyle's tenants, Thomas Stillt and George Kuniston.
All protests made by the Doyle as the putative owner and his tenants proved unconvincing and the land was ordered returned to Daniel Harding and John Tulvitt by Judge Oliver St. John.