Appointment of a Royal Tax Official
Richard Colchester, Receiver General, John Guise, Maynard Colchester, and William Lane, Commissioners of the Treasury, to King George III. Appointment and Obligation. Gloucester: 23 July 1777. English. Brown ink on parchment. 515 X 250 mm. Four seals.
This collection includes a number of royal transactions. In this late eighteenth-century example, Richard Colchester, esquire, accepts the nomination of Receiver General, and as such binds himself to provide £23,000 in taxes for the county of Gloucestershire.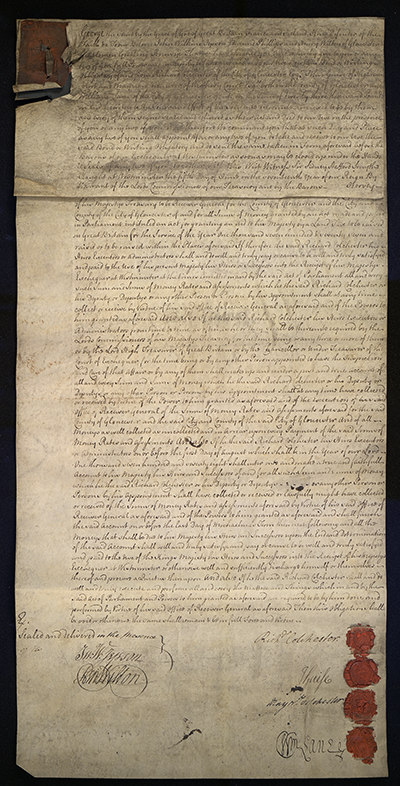 The Colchester family had origins in Worcestershire, but ultimately acquired lands in Gloucestershire, and had their arms confirmed in 1636. The Manor of Westbury became the family home in 1641. Charles II made Sir Duncombe Colchester a knight in 1674, and they continued to be wealthy landholders in the county through the next centuries. Many of the men in the family attended the Inns of Court, which provided legal education and training, although not all of them practiced law.
Richard Colchester was born in Westbury On Severn, Gloucestershire, England in 1737 to Maynard Colchester and Elizabeth Harris. He died on December 9, 1782, in Westbury On Severn, Gloucestershire, England while still in office as Receiver General.