View of Frankpledge
Manor Court of Uffington. Visus Franciplegii. Uffington, Lincolnshire: 20 October 1534. Latin. Brown ink on parchment. 710 X 315 mm.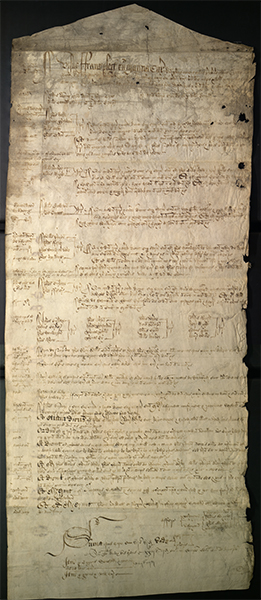 In medieval England, frankpledge was a system of law enforcement and policing in which members of society were mutually responsible for the behavior of their peers. The system included everyone in the community except the highest nobility and their households. A frankpledge group was responsible for making sure that any criminal in their group was brought to court or the group itself was fined. With origins in the Anglo-Saxon period, the system became regularized under the reign of Canute (1016-1035).
By the sixteenth century, use of the term "view of frankpledge" had evolved to mean an appearance before the court, often with reference to criminal activity or other breaches of the peace. A jury representing the community would hear evidence and usually be limited to ten or twelve men, although thirteen, fifteen, and other groupings also appeared. A view of frankpledge is also the time at which the peasantry would swear allegiance to the king.
In October 1534, a manor court met in Uffington to address minor infractions and attend to manor business. This document records the proceedings of the court and opens with a recitation of changes in property holding. The next portion includes a list of the jurors -- in this case sixteen, neatly grouped into sets of four names. The third section recites breaches of the peace. Infractions included trespass onto a field and the "pasturing of beasts in another's field." Fines levied by the jurors totaled 23 shillings, 4 pence. Finally, the court appointed two new officers to enforce the statute of victualers (food sellers).
Note here the use of double ff (ff) to indicate a capital letter.