Will of John Flood
John Flood. Last Will and Testament. Cunningham Island, Ireland: 30 April 1797; Codicil, 23 June 1797; Probate, 25 June 1806. English. Brown ink on parchment. 305 X 350 mm. Seal of the Archbishop of Canterbury.
This copy of John Hood's will lacks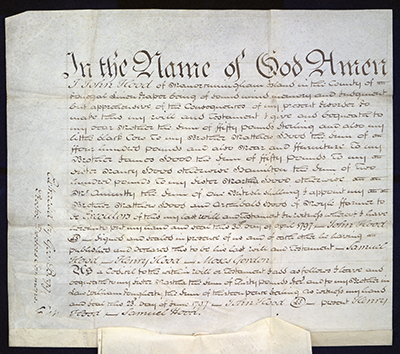 the original seals and signatures but is a charming piece nonetheless. Apparently a bachelor, Hood left his estate to his mother and siblings. "To my dear mother the sum of fifty pounds sterling and also my little Clark cow." Of his brothers and sisters, his sister Nancy received the largest bequest for reasons undisclosed. The two brothers he had named as executors predeceased him and his mother took over that capacity in 1806.
Probate of smaller estates fell to the ecclesiastical courts. This will was probated by the Archbishop of Canterbury, Charles Manners.