William Staunford. An Exposicion of the Kinges Prerogative Collected out of the Great Abridgement of Justice Fitzherbert. London: Rychard Tottel, 1568. Written in English. Contemporary calf binding, rebacked. 20 cm x 15 cm.
The second great work by William Staunford, Exposicion of the Kinges Prerogative, was first published in 1567.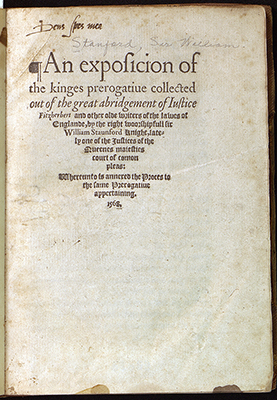 The work appears to have been loosely based on Prerogativa regis, a thirteenth-century law recording the customary privileges of the crown. Staunford's work primarily addresses the discretionary property rights enjoyed by a monarch rather than constitutional principles. Staunford again drew heavily on Fitzherbert. This time the section "Prerogative" was the inspiration for his detailed analysis, and again Glanville, Bracton and the Year-Books were cited as authorities.
This volume is a second edition – Richard Tottell published at least six separate editions of the work. When Tarlton's volume was bound with Plees del coron, it was trimmed as part of the process, losing some marginal notes.
The final page with the colophon (shown with the title page to Plees del coron) is covered with inscriptions: pen trials, Latin epigrams, a phrase in Law-French that appears elsewhere in the text (Garde mariage reliefe), and notes which seem to have no bearing on the text whatsoever. As noted in the introduction, a colophon is a short note at the end of a book, containing various pieces of information, but especially place of printing, printer and date.
References:
J. H. Baker. "Stanford, Sir William (1509–1558)." Oxford Dictionary of National Biography.Oxford University Press, 2004; online edn, Jan 2008 [http://www.oxforddnb.com/view/article/26238, accessed 22 July 2013]