Robert Brooke. La graunde abridgement. [London]: in aedibus Richardi Totell, 1576. Written in Law-French. Contemporary calf. 25 cm x 17 cm.
Sir Robert Brooke, (also Broke, d. 1558) was born in Shropshire, probably before 1510. In the late 1520s he was admitted to the Middle Temple, one of the Inns of Court that century have trained and regulated barristers since the fourteenth century. Brooke held a number of offices, and was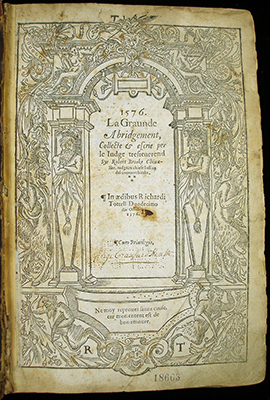 eventually appointed chief justice of the common pleas in 1554. He was knighted early the following year. A staunch Catholic, he flourished under Mary's reign, but made many enemies, and would probably have been forced out of office at her death, had he not died shortly before she did.
His early works circulated in manuscript and were published long after his death. His best known work, however, was La graunde abridgement, which first appeared posthumously in 1573. More ambitious than Fitzherbert's abridgement, the work contains over 20,000 entries, arranged by topic. In addition to numbering the entries there are abbreviated summaries in the margin, and cross-references to related entries in the work itself. Brooke's abridgment was immediately more popular than Fitzherbert's for the simple reason that it was easier to use. Totell included his more precise references to cases in the work.
For more information see our guide to using an abridgement.
References:
J. H. Baker. "Broke, Sir Robert (d. 1558)." Oxford Dictionary of National Biography. Oxford University Press, 2004; online edn, Jan 2008 [http://www.oxforddnb.com/view/article/3497, accessed 29 July 2013]