Henry Bracton. De legibus & consuetudinibus Angliæ libri quinque in varios tractatus distincti, ad diversorum et vetustissimorum codicum collationem, ingenti cura, nunc primū typis vulgati quorum quid cuiq; insit, proxima pagina demonstrabit. London: apud Richardum Tottelum, 1569.
Written in Latin. Contemporary blind-tooled calf. 29 cm x 21 cm.
Henry de Bracton (also Bratton, d. 1268) is traditionally credited with the work known variously as Bracton or, more formally,
On the Laws and Customs of England. Little is known about his early life, but it is thought that he began his legal career no later than the 1230s. By 1238 he was serving as clerk to Justice William de Raleigh. When Raleigh moved on, Bracton was hired by the king. He received his first judicial appointment as justice on eyre (itinerant justice) for Lincolnshire and Nottinghamshire. He served as a justice on a number of minor courts, mainly in south-west England, until his death.
This title, long associated with his name, is no longer thought to have been his work, but rather more probably the work of his first mentor, William de Raleigh.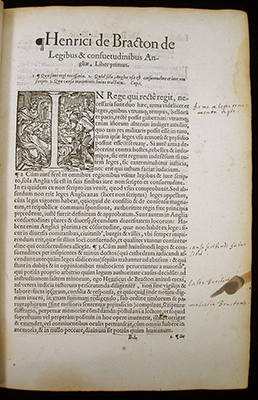 It was one of the most ambitious English law texts of the Middle Ages. The main topics covered are the acquisition and transmission of property rights, criminal law, and rights and actions associated with land and other forms of real property, with all discussion supported by contemporary cases. The author drew heavily on Roman civil and canon law, when common law left gaps. It circulated widely in manuscript – more than fifty copies survive today.
The confusion over authorship is a combination of the circulation of early manuscripts with Bracton's name on them, and Richard Tottell's deliberate attribution to Henry Bracton in this edition.
References:
Paul Brand. "Bratton , Henry of (d. 1268)." Oxford Dictionary of National Biography. Oxford University Press, 2004; online edn, Jan 2008 [http://www.oxforddnb.com/view/article/3163, accessed 31 July 2013]