Elizabeth Nutt and her husband John Nutt were printers and booksellers in London in the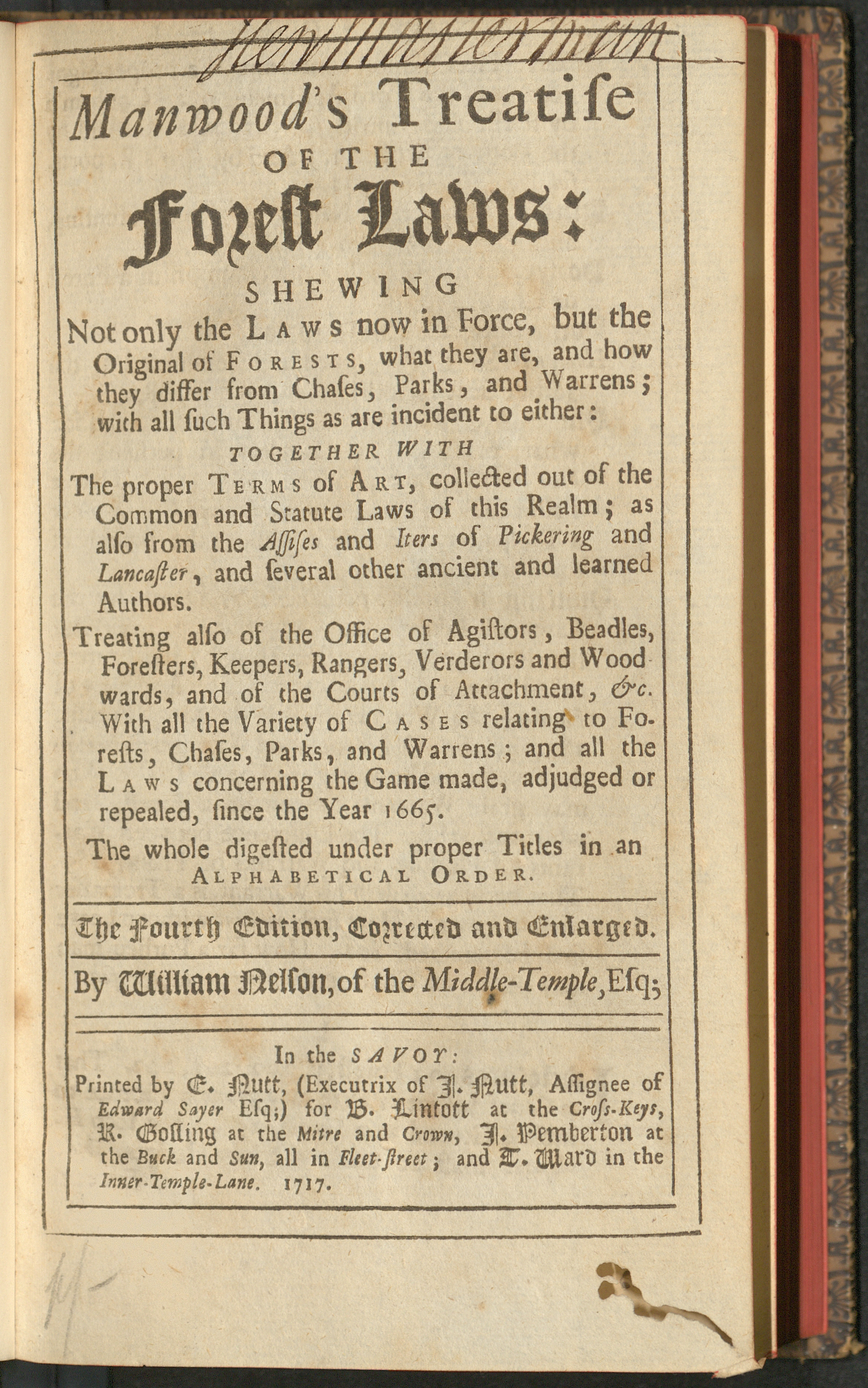 early 18th century. In 1705, John Nutt acquired an exclusive patent to print law books. When he died in 1716, Elizabeth took over the printing business and continued to be listed as a printer on title pages until 1741. She passed her patent for printing law books to her son in 1722.
Elizabeth Nutt stated in 1728:
"It has been her Business for about forty years to sell News Papers and Pamphlets at the Royal Exchange."
-Paula McDowell, The Women of Grub Street: Press Politics and Gender in the London Literary Marketplace.
As her printing and newspaper distribution business expanded, Mrs. Nutt deputized her daughters, Catherine, Sarah, and Alice, to manage the various bookstores and newspaper outlets around London.
Detailed information on Elizabeth's life is available through court records. She and her husband were repeatedly brought up on charges for flouting Hanoverian censorship regulations.
Tarlton's example of Elizabeth Nutt's work is a printing of Manwood's Treatise of the Forest Laws, printed in 1717. John Manwood was a barrister of Lincoln's Inn and a gamekeeper of Waltham Forest under Queen Elizabeth I. Blackstone cites the Treatise as an authoritative source on forest law in his Commentaries on the Laws of England.
Manwood, John. Manwood's treatise of the forest laws: shewing not only the laws now in force, but the original of forests…4th ed., corrected and enlarged / by William Nelson, of the Middle-Temple. In the Savoy [London] : Printed by E. Nutt, (executrix of J. Nutt, assignee of Edward Sayer Esq.) for B. Lintott at the Cross-Keys, R. Gosling at the Mitre and Crown, J. Pemberton at the Buck and Sun, all in Fleet-Street; and T. Ward in the Inner-Temple Lane, 1717.