You can search the text of Texas statutes on the legislature's Texas Constitution and Statutes page. Click on the "Search" tab at the top of the page to perform a text search. Since you are searching for a multi-word phrase—Sunset Advisory Commission—in this search example, you will want to use quotes around the phrase when searching.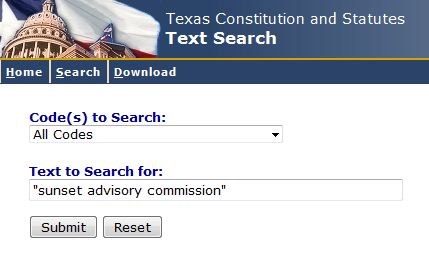 As you can see, several options for your search phrase are returned in the results. You will want to check all of the options to find the statute that you are looking for. In this case, the Sunset Advisory Commission statute that you are searching for is located in the Sunset Law, which is the sixth result.
The Sunset Law, Chapter 325 of the Government Code, will open in a new window. Scroll down until you locate Section 325.003, which is the section on the Sunset Advisory Commission.

Now that you have located the correct statutory provision, you may find the bill or resolution number at the end of the statutory section or you may be able to click through to the original session law to find it there.

If you only want to look at the most recent amendment, you can click on the hyperlink in this section, which will open up the underlying legislative bill that created the law, in this case, 80(R) H.B. 3249. With these bill and session numbers in hand, proceed to Step 2: Bill File.
If uncertain of which bill introduced the language you are researching or the citation is lacking, you need to look at the text of the session laws to pin down which one added the language to Vernon's that you are researching. If that is the case, proceed to Starting With the Session Law Chapter Number.