Skip to Main Content
It looks like you're using Internet Explorer 11 or older. This website works best with modern browsers such as the latest versions of Chrome, Firefox, Safari, and Edge. If you continue with this browser, you may see unexpected results.
What is a Bill History?
The bill history is a list of all legislative actions on a bill, and the dates on which each action took place.
Where Can I Find the Bill History?
Statements of Legislative Intent
Occasionally, statements of legislative intent will be recorded in the House and the Senate Journals. Researchers should always check the House and Senate Journals rather than relying on a bill's actions to signal such a statement. In recent sessions, care has been taken to include references to statements of legislative intent in the list of actions on a bill, or bill history. Prior to the 75th Legislature in 1997, however, statements of intent were inconsistently reflected in the actions.
Search Example: Online
Since the Sunset Advisory Commission legislation that you are researching is from the 80th Legislature, the bill history can be found on the Bill Lookup section of the Texas Legislature Online website in the same way that you found the bill file.
Here is a section of the bill history for House Bill 3249, 80th Legislature: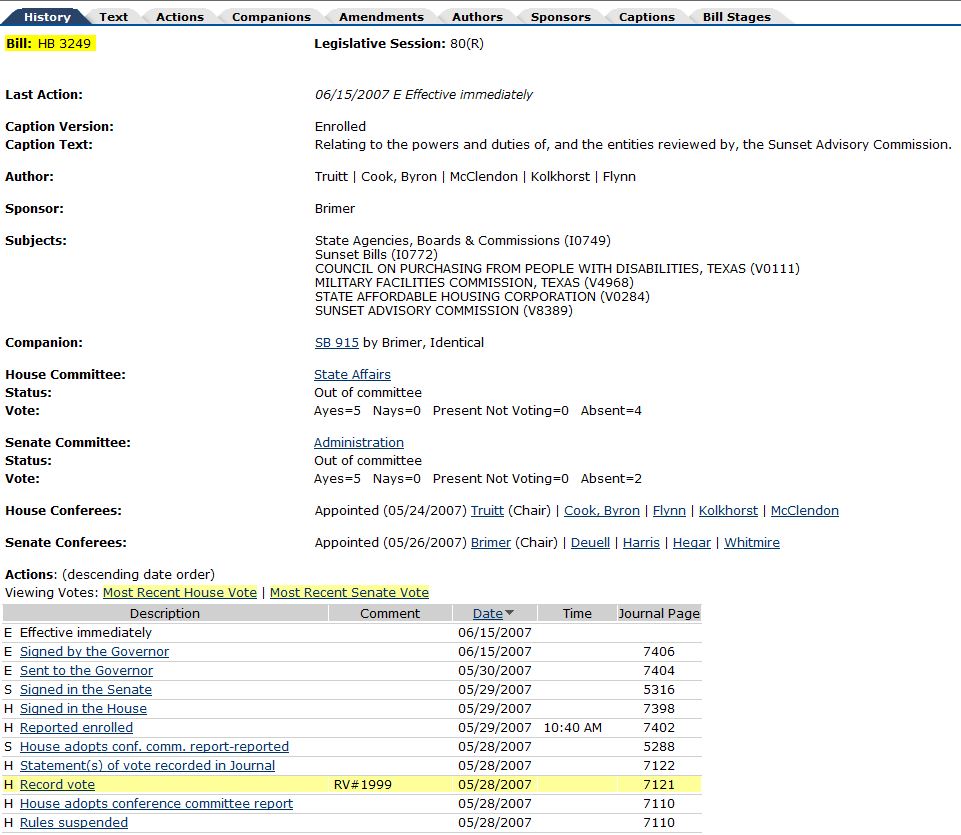 The H, S, and E that appear on the far left side indicate whether the action took place in the House, Senate, or Executive branch. In the column furthest to the right, the numbers indicate which page of the appropriate Journal (House or Senate) include bill entries. You will also want to make note of the dates of legislative discussion; you will need this to obtain audio tapes, if necessary.