You can search the text of Texas statutes on the legislature's Texas Constitution and Statutes page. Click on the "Search" tab at the top of the page to perform a text search. Since you are searching for a multi-word phrase—Sunset Advisory Commission—in this search example, you will want to use quotes around the phrase when searching.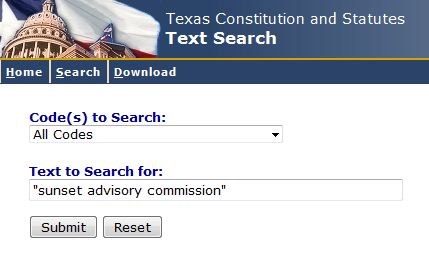 As you can see, several options for your search phrase are returned in the results. You will want to check all of the options to find the statute that you are looking for. In this case, the Sunset Advisory Commission statute that you are searching for is located in the Sunset Law, which is the sixth result.
The Sunset Law, Chapter 325 of the Government Code, will open in a new window. Scroll down until you locate Section 325.003, which is the section on the Sunset Advisory Commission.