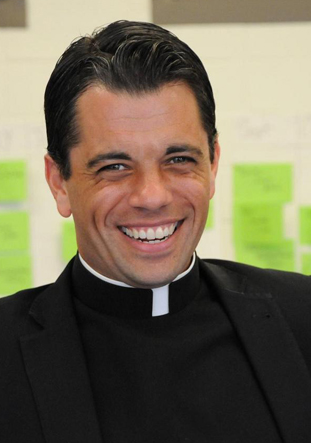 Raised in Brownsville, Texas, Antonio "T.J." Martinez (1970-2014) earned his B.A. in political science and communications from Boston College in 1992. Following graduation, he did volunteer work at an inner-city high school in New York. He earned his J.D. from the University of Texas School of Law in 1996. Soon after sitting for the bar exam in 1996, Father Martinez took his vows with the Jesuit Order. In 2002, he earned an M.A. in Philosophy at Loyola University in Chicago. He received his Masters of Divinity and Masters of Theology from Weston Jesuit School of Theology in 2007. After his ordination in 2007, he enrolled in the Masters in Education in School Leadership program at Harvard University. He was honored as valedictorian of his class when he graduated in 2008 and received the Intellectual Contribution/Faculty Tribute Award.
Father Martinez served as founding president of the Cristo Rey Jesuit College Preparatory in Houston beginning in 2008. The school, formed to help educate economically disadvantaged students, combines a rigorous academic program with an innovative work-study program that relies on corporate participation. In 2013, he took a leave from the school to complete his Jesuit formation in Nairobi, Kenya.
Father Martinez was inducted into the Equestrian Order of the Holy Sepulchre, a papal knighthood, in 2010. In 2013, Phi Beta Kappa Society recognized him with the "Outstanding Contribution to Education Award" for his work with Cristo Rey Jesuit College Preparatory. Before his untimely death in 2014, he was honored by Notre Dame's Alliance for Catholic Education, received the Spirit of Ecumenism Award from the Anti-Defamation League, and was named one of Houston Chronicle's Houstonians of the Year.