Carlos Cadena (1917-2001) was the only Mexican-American in his class when he received his LL.B. summa cum laude from the University of Texas School of Law in 1940. As a student, he served as an editor of the Texas Law Review.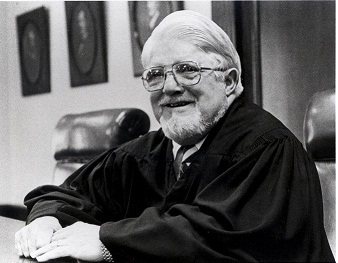 After graduation, Cadena worked as an assistant city attorney in San Antonio. In 1943, he was drafted into the Army Air Force. Cadena trained as both a radio operator and gunner, but did not see active combat. Upon his military discharge in 1946, Cadena practiced law with Goodrich and Dalton in Mexico City before becoming a partner in the San Antonio firm of Archer, San Miguel and Cadena in 1947.
Cadena accepted a position as law professor at St. Mary's University School of Law in 1952. After joining St. Mary's faculty, he became involved with the case of Pete Hernández. Hernández, a migrant cotton worker, had been convicted of the murder of Joe Espinoza in Edna, Texas in 1952. On January 11, 1954, Cadena and co-counsel, Gustavo "Gus" C. Garcia (B.A. in 1936 and LL.B. in 1937 from the University of Texas), argued before the United States Supreme Court that Hernández's conviction was unconstitutional because Mexican-Americans were excluded from jury service in Jackson County. The Court unanimously agreed that excluding Mexican-Americans was a violation of the Equal Protection Clause. (Hernández v. Texas, 347 U.S. 475 (1954)).
Following the Hernández case, Cadena served as city attorney of San Antonio until 1961 when he rejoined the faculty of St. Mary's. In 1965, Governor John Connolly appointed him associate justice on the Fourth Court of Appeals. In 1977, Governor Dolph Briscoe named Cadena the Chief Justice of the Fourth Court of Appeals, making Cadena the first Mexican-American to hold the position. Cadena retired in 1990, but continued to serve part-time as a senior appellate justice as well as counsel to the San Antonio firm Charles A. Nicholson until his death in 2001.
Cadena help found the Mexican-American Legal Defense and Educational Fund (MALDEF), serving as the president of the board of directors from the organization's inception in 1968. The Alba Club, one of the earliest Mexican-American student organizations at the University of Texas, named Cadena Outstanding Latin American in Texas. Sebradores de Amistad awarded Cadena the Man of the Year Award for 1973-1974. He received the Gavel Award from St. Mary's University School of Law, the MALDEF Founder's Award, the Award for Meritorious Service from the League of United Latin American Citizens (LULAC), and the Justice Award from the Texas Rural Legal Foundation. The Texas Bar Foundation honored Cadena as an Outstanding Fifty-Year Lawyer in 1999.