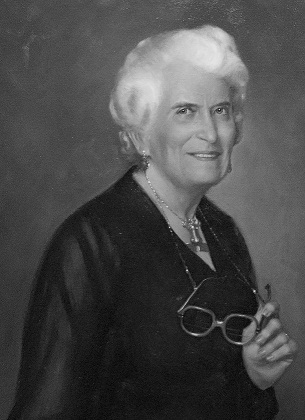 Alice Sheffield (1896-1984) was born in Palestine, Texas and moved to Houston as a teenager. Sheffield enrolled at the University of Texas in 1914, where she was a member of Phi Mu social sorority, lettered in basketball, and served as vice president of both her junior and senior law classes. Sheffield was awarded her LL.B. in 1918. In her small class with only thirty-five students, female students, Alice Sheffield, Helen Lord Leary, Bertha Lewis, Mildred Marshall, Annie Maxwell, and Nellie Gray Robertson, constituted 17% of the class.
Admitted to the Texas State Bar in 1918, Sheffield began working for the Gulf Oil Corporation in 1925 and spent her long and successful career in its legal department, advancing to associate general counsel. She was named an honorary member of Order of the Coif in 1974.
Sheffield donated more than $500,000 to the University of Texas during her lifetime. She gave substantial monetary gifts to fund professorships at the School of Law as well as donating a variety of objects to the Harry Ransom Humanities Research Center. When she died, Sheffield bequethed $3.5 million to the University of Texas School of Law, making her the school's most generous benefactor up to that time. The 1985 bequest was used to establish the Alice Jane Drysdale Sheffield Regents Chair, the Earl E. Sheffield Centennial Regents Chair, the Minerva House Drysdale Regents Chair, the Fannie Coplin Regents Chair, the Anne Green Centennial Professorship, and the Alice McKean Young Regents Chair in Law. The Alice Jane Sheffield Room of Townes Hall is named in her honor.