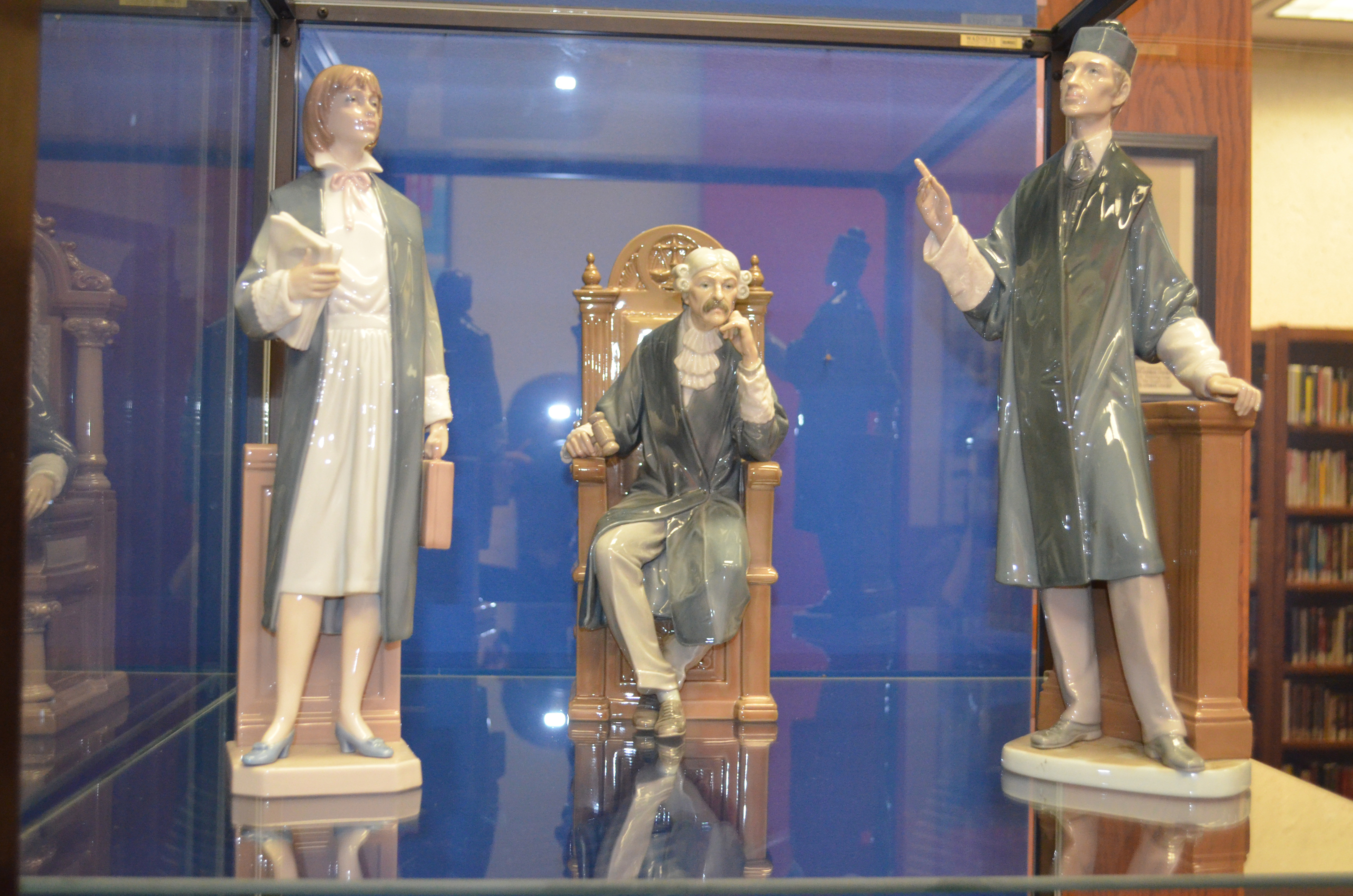 A 2017 donation by Texas Law alumnus Derek Van Gilder ('81) has added a new dimension to the art collections displayed in the Tarlton Law Library and throughout the Law School. The Van Gilder Collection is comprised of artwork and objects representing lawyers and the law in a variety of formats and media.
For example, several dozen figurines created by prominent manufacturers depict judges and attorneys in various phases of dispute resolution. Attorneys, both men and women, young and old, in formal and informal settings, are depicted in the elegant porcelain works from Lladró and the highly detailed Capodimonte. The figures wear a variety of wigs, hats, and robes. The whimsical "Bunnykins" from Royal Doulton feature bewigged and robed bunnies.
Van Gilder's donation includes a collection of gavels—in wood, metal, and crystal—including a notable gavel made from wood harvested from damaged parts of the Austin Treaty Oak following its 1989 poisoning. The gavels represent the leadership and authority wielded by a judge in a judicial proceeding. Also part of the collection are scales and items bearing engravings or pictures of scales, symbols of the weight of evidence and the balancing required for the decision-maker to reach a just decision. Highlighting the collection of scales is a tall figure of Justitia, or Lady Justice, blindfolded and holding her scales high.
Along with the items described above, Van Gilder donated a variety of framed pieces of art.
Three silk-screened pieces by contemporary artist Charles Fazzino feature law-related images and symbols. These serigraphs use a three-dimensional, "pop art" style, with bright colors and intricate design, and feature the U.S. Capitol and courtroom scenes ("I'll See You In Court"), the U.S. Supreme Court, the Capitol, and Lady Justice ("Legal Briefs"), and the steps of a lawsuit including discovery, deposition, and stages of a trial ("Don't Wait . . . Litigate"). Fazzino's work is displayed in the Law School's Goodwin Conference Center in the Connally Center.
In addition to contemporary works, Van Gilder donated several historical objects that add extraordinary depth to the Tarlton Law Library's collections. A handwritten letter from William Blackstone, one of the best known and influential legal minds of 18th century England, as well as several editions of works by Blackstone from England and the U.S., were included in the donation. The Blackstone items are the subject of this highlight.
Derek Van Gilder is a 1981 graduate of the University of Texas School of Law and a licensed professional engineer. He practices law in Bastrop, Texas, focusing on civil litigation.