Las Siete Partidas were one of Spain's first imports in the conquest of Latin America, and remained in force in some countries through the 19th century. When Spain began settling Texas during the 17th century the colonial legal system took root, continuing after Mexico won its independence from Spain in 1821.
Las Siete Partidas del sabio rey don Alonso ed Nono... nuevamente glosades, por el licenciado Gregorio Lopez. Madrid : Juan Hasrey, [1610-1611].
Las Siete Partidas had legal force in Texas until 1836, when Texas adopted the Common Law of England as its criminal law; in 1840 when Texas adopted the Common Law in civil proceedings, the Partidas remained applicable law for contracts, land titles and mineral rights granted under the Spanish and Mexican governments. Various sections of Las Siete Partidas remained foundational to the Texas legal system, particularly those dealing with heirship and property ownership.
Building a working legal library was difficult for frontier Texas judiciary but one text cited early and often in Texas Supreme Court Reports is the Siete Partidas. Here, in deciding the case Garret v. Nash, Justice Hemphill quoted extensively from the Siete Partidas and in fact, many early cases were decided with reference to "the laws of Spain" or "the Spanish laws."
Dallam, J. Wilmer. A Digest of the laws of Texas: containing a full and complete compilation of the land laws, together with the Opinions of the Supreme Court. Baltimore: John Toy, 1845. ​
In Heirs of Hunt v. Heirs of Robinson in Reports of cases argued and decided in the Supreme Court of the State of Texas. Galveston: printed at the News Office, 1848-1874 the Court said: "It is believed to be a rule of universal application that to undertake to do an act forbidden by the law of the place where it is to be done is an invalid agreement and imposes no legal obligation." The Court supported its position by reference to the Spanish Siete Partidas, and the French Code de Napoleon, as well as the French commentator Pothier.
One of the four volume Las Siete Partidas editions in Tarlton's collection was a gift to the library from Robert Lynn Batts (1864-1935). These four volumes are the practical collection of a reader prioritizing text over packaging; the first volume printed in Madrid by Juan Hasrey in 1610 and the last three from an earlier 1587 printing. The volumes show signs of at least one engage reader, they are annotated throughout, with lengthy marginalia examining points of law.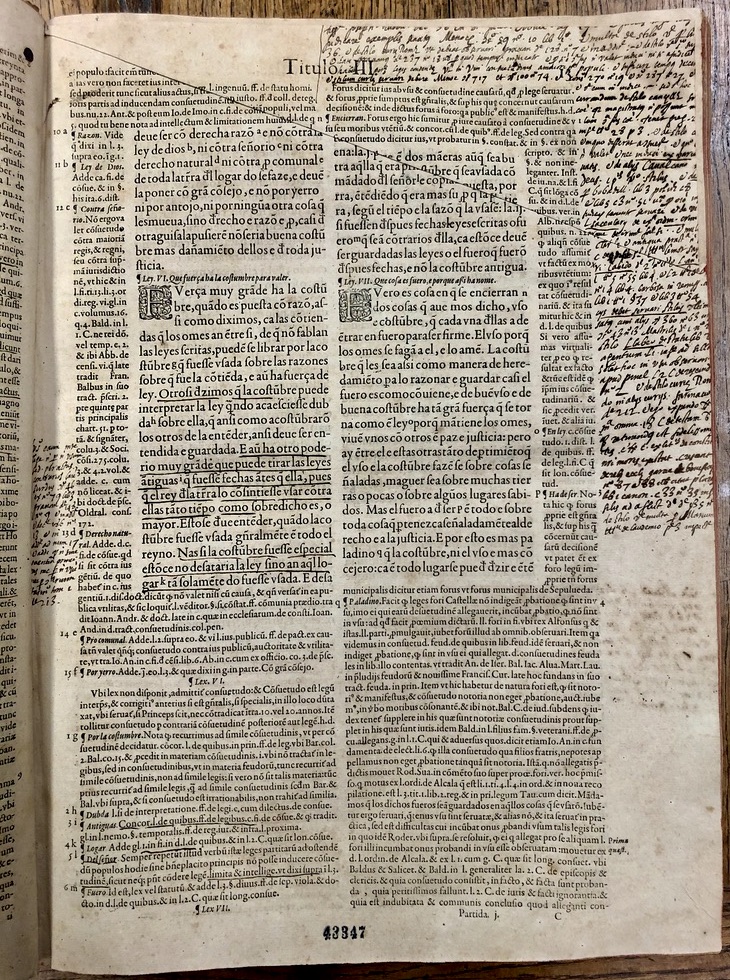 Batts, an 1886 graduate of the University of Texas, served as assistant attorney state general of Texas from 1891 to 1893 and then returned to the University as a professor of law from 1893 to 1900. Over the course of his legal career, Batts worked in public service, private practice and as a general counsel for Gulf Oil; in 1917 he was nominated by Woodrow Wilson to a seat on the United States Fifth Circuit Court of Appeals.
Tracing marginal annotations to specific readers is a tricky business, and without exact provenance information, it would be impossible to prove that the handwritten commentary belonged to one particular owner and user of these volumes. It is more likely, with the bulk of the marginalia written in Spanish, that Professor Batts acquired the notes along with the volume; perhaps they were an inducement to purchase. The ownership of these Partidas volumes by Batts, one of the law schools first students and most influential early professors, is interesting given his varied practice and judiciary experiences. Perhaps his gift to Tarlton was meant to encompass not just the Siete Partidas text but its interesting annotations as well.
In any case, as Robert Batts certainly knew, the early Texas courts, both before and after statehood, spent considerable effort determining the meaning and effect of Spanish law in their own jurisdictions.