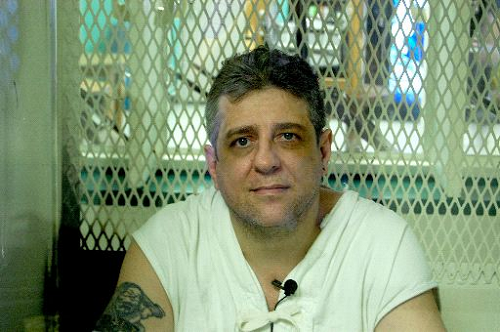 Hank Skinner
Photo by Janelle Stecklein for the Amarillo Globe-News.
Excerpted from the UT Law Magazine:
Hank Skinner was convicted and sentenced to death in 1995 for murdering his girlfriend Twila Busby and her two adult sons in their home in the Panhandle town of Pampa on New Year's Eve 1993.
Skinner has sought access to certain evidence from the crime scene for the purpose of performing forensic DNA testing that he says could clear him. Only a few hairs have been previously DNA tested, and the results of those tests were inconclusive.
After failing to obtain such access though repeated formal and informal requests, as well as two separate state court proceedings under Texas' post-conviction DNA testing statute, Skinner filed suit against Gray County District Attorney Lynn Switzer in November 2009. Skinner invoked 42 U.S.C. § 1983, alleging that the refusal to grant him access to the evidence under Texas' DNA testing statute was so arbitrary as to deny due process of law. The district court dismissed Skinner's lawsuit, and the Fifth Circuit affirmed, both relying on a 2002 decision in which the Fifth Circuit had determined that such an action could proceed only as a habeas corpus petition, not as a civil rights lawsuit.
That legal conclusion, shared by the Fourth Circuit, is at odds with the view of six other federal Courts of Appeals, and that conflict was the basis of the petition for writ of certiorari that Skinner filed with the Supreme Court in February as Skinner v. Switzer, No. 09-9000.