Skip to Main Content
It looks like you're using Internet Explorer 11 or older. This website works best with modern browsers such as the latest versions of Chrome, Firefox, Safari, and Edge. If you continue with this browser, you may see unexpected results.
Overview of the Guide
There are a range of resources available for researching the drafting of the Constitution. Some attempt to gather documents and/or citations from across the board--Convention, post-Convention, and private papers. Two such resources are listed below under "Comprehensive Resources." Some resources relate to a particular aspect of the drafting, and are listed on the guide's subpages.
To provide additional background, selected terms in this guide are linked to entries in Leonard W. Levy and Kenneth L. Karst's Encyclopedia of the American Constitution. For a discussion about the reliability of the drafting records, see James H. Hutson, The Creation of the Constitution, 65 Tex. L. Rev. 1 (1986).
Comprehensive Resources:
More specific resources: See the subpage of the guide that interests you for further information: the Convention itself, the ratification process (including the Federalist essays), the Bill of Rights, and the founders' private papers. The Reference and Introductory Works subpage contains materials that help throughout a research project as well as providing historical context.
Overview of the Constitution's Drafting
The primary sources behind the U.S. Constitution fall into three general categories--
May-September 1787
Types of documents produced:


Plans
Committee reports/drafts

In general, documentation becomes poorer toward end of Convention
Convention met in secret and records were only made public years later
(Continental Congress ongoing)
2) Post-Convention:
3) Private papers throughout.
Text of U.S. Constitution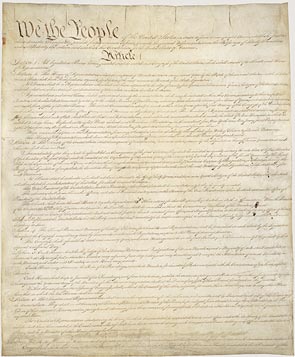 Navigating Tarlton's Collection
Whether seeking print or online materials, here are some tips for using TALLONS, the online catalog:
Helpful call number ranges:
E302 - 312 (Early U.S. History)
JK8 - 411 (U.S. Political Institutions)
KF 4501 - 5130 (Constitutional Law)
Helpful subject headings:
Inside the National Archives Vaults